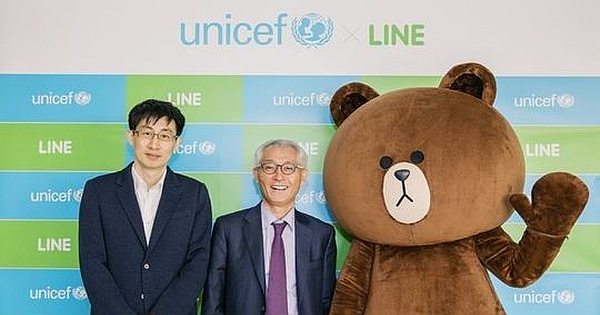 Line App, world's largest messaging application, and UNICEF ( United Nations Children's Fund ) have signed a partnership agreement. Under this agreement, Line will support UNICEF with 360 million Japanese Yen.
There are total of 11 countries including Japan, Korea, Taiwan, France, Germany, Thailand, Indonesia, Malaysia, Spain, India and U.S which are participating in the partnership. Korean committee for UNICEF  signed it ,representing all countries at this global partnership. Jung-ho Shin, Chief Executive Officer and Chief Globalization Officer  of LINE Corporation and Jong Nam Oh, Executive Director of The Korean Committee for UNICEF, held "UNICEF-LINE Global Partnership Signing Ceremony" in Seoul on this month's 13th to agree on sponsorship partnership to support the children of the world.
With the help of partnership, Line and UNICEF will build brand value, to raise fund for the children of world. Line Corporation has planned to use Brand strategy for this fund raising. They want it to be powerful yet effective. They are planning to sell mugs and plush toys of Line's flagship character Brown with UNICEF branding to raise fund for this sponsorship. Line's digital stickers and virtual coins will also contribute towards fundraising.
Jong Nam Oh, the Executive Director of the Korean Committee for UNICEF, at signing ceremony  said :
"It is highly meaningful that Korean Committee participated as a representative for the partnership between UNICEF and LINE a global corporate and a messenger app used in 230 countries worldwide."
He further added :
"The strategic partnership between UNICEF and LINE is expected to enhance brand value, produce competitive products, and moreover, create synergy to increase sponsoring opportunities for UNICEF using LINE's digital platform."
Line's CEO on the moment of signing Partnership said :
Line has been constantly involving to become the world's leading
mobile life platform. I hope this partnership brings excitement to
all Line users by being able to take on an important role to support
the children in developing countries
The fund raised through this  strategic partnership will be spent on health, nutrition and education for children of above countries.